Background


After running the 2009 ING New York City Marathon in 3:37:02, beating 36,000 of the race's 43,000 entrants, I have decided to return to my Long Island roots and run its RXR / TIAA-CREF half-marathon while raising money for the "Fight for Kids" campaign.

For this 13.1 mile race,
my target is $1,000!

Please help me make this target. While training for NYC, I raised $730 and now we're going to top it!

You will be fighting against the psychiatric over-drugging and labeling of children while educating parents on safe alternatives.
(Check out this free booklet!)

How to Donate

CASH / CHECK
Checks can be made out to "CCHR."

Mailing Address:
CCHR
6616 Sunset Blvd
Los Angeles, CA 90028
Attn: Tulia / Fight for Kids

PAYPAL (Credit Card)
**All donations are tax-deductible.

In Return

+ All donors will be recognized on this website, my Twitter and my Facebook, viewable to over 5,000 people. [Bronze]

++ Donations of $50 or higher will earn you the soundtrack to "College The Musical: A Musical About College." [Silver]

+++ Donations of $100 or higher will earn you an autographed copy of my album "LOL" plus a Soundtrack [Gold]

++++ Donations of $250 or higher will earn an autographed "LOL," soundtrack plus a dri-fit running shirt (while supplies last). [Platinum]

Thank you for fighting!
-Evan

About Fight for Kids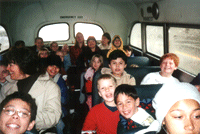 "Fight For Kids" is a campaign launched by the Citizens Commission on Human Rights (CCHR), a non-profit public benefit organization that has been the most effective international group to help achieve legislative protections against abusive psychiatric treatment and drugging of children.

This campaign is an alternative for parents concerned with the psychiatric labeling and drugging of their child with heavy mind-altering drugs like Ritalin, Prozac, Adderall and Zoloft.

ARTICLES

The "Fight For Kids" Purpose

Targeting Children

Other Causes for ADHD Behavior






VIDEO

Dr. Thomas Szasz



ABOUT CCHR

The Citizens Commission on Human Rights investigates and exposes psychiatric violations of human rights. It works shoulder to shoulder with like-minded groups and individuals who share a common purpose to clean up the field of mental health and shall continue to do so until psychiatry's abusive and coercive practices cease and human rights and dignity are returned to all.